Here is a great interview that SCMP did with one of my favorite HK actor-comedians, Michael Hui. I was actually quite a huge fan of the Hui brothers (Michael, Sam, Ricky) back in the day – loved watching their movies and of course, with Sam, loved his music too! The Hui brothers brand of humor was quite unique and Michael especially never failed to crack me up, whether with his comedic antics in his movies or his speaking gigs on various variety shows. One of the things I loved most about the Hui family (back then and even now too) was the awesome chemistry between the brothers as well as how close-knit the entire clan was – it was always a joy to see how the brothers always supported each other both on and off screen (when any of the brothers would hold a concert, you're guaranteed to see the other brothers sitting in the audience). Their type of chemistry and also immense talent within the family is hard to come by nowadays in the entertainment industry (the only other family that comes close in my opinion is the Chiang family, whom I also adore).
Reading this interview brought back so many memories of the good old days for me. It also made me realize how much I missed the Hui brothers (Michael rarely films anything nowadays and is enjoying a semi-retired life playing with his grandkids, Sam is officially retired and only comes out occasionally to do a concert or two, and Ricky – well, kind of hard for me to mention Ricky without getting teary-eyed since he passed away 6 years ago). I remember back in the old days whenever Sam would do a concert and both his brothers Michael and Ricky would be in attendance to show their support, then during "intermission" they would go up and do their hilarious comedic segment (which usually included a song or two – that entire family is talented in music too!!). Michael's comedic routines (whether solo or with his brothers) were always funny and I always got a kick out of how Michael always managed to keep a straight face during his routines when everyone else was doubled over laughing (he's known for this actually – he'll say the most hilarious of things but still have a serious expression on his face, lol).
One of my fondest memories of Michael is how he would constantly "complain" (jokingly of course) that his little brother Sam overshadowed him in everything, whether it be looks (yes, Sam was definitely good-looking, lol), talent (acting and singing – well, Sam WAS the first generation God of Songs, lol), popularity (yes, Sam was VERY popular back in the day), their parents' affection (Sam was the youngest of the 4 Hui brothers and as the Chinese saying goes, "the youngest son has the keys to the parents' hearts"), etc . So when Michael had grandkids first (since his children were older than Sam's), he said he was so happy and proud because finally there was something where he was "better" than Sam. The way Michael described his little "feud" with his brother in interviews (and in his comedy routines) was absolutely HILARIOUS – he said something along the lines of when his first grandchild was born, he deliberately took the child over to Sam's house so he could rub in his face the fact that he had a grandchild and that finally he had something Sam didn't….but then later on, when Sam's sons started having kids too, Michael's bubble got burst when Sam brought HIS grandkids over to Michael's house to boast that HE had grandkids now too (hahahaha…just thinking about the expression on Michael's face when he recounted that story is enough to make me laugh!). Awww, love these brothers, lol!! Makes me want to go pull out a Hui Brothers movie now and re-watch it!
A side note about last year's Golden Horse awards: to be honest, I was kind of conflicted back when I found out both Michael and my idol Jacky Cheung were nominated in the Best Actor category (Michael for Godspeed and Jacky for Heaven in the Dark) for roles that both of them performed very well in. I would've been happy if either of them won, though of course I would not want to be one of the judges for that awards show because I definitely would not have been able to choose between them (I ended up rooting for both, though it turns out that neither ended up winning).
Anyway…I definitely enjoyed this interview and hope you guys do too! Oh, and I will most certainly be on the lookout for the next film that Michael is planning to write/direct/act in!
*******
Hong Kong's king of comedy Michael Hui hopes to direct a film again after 25-year hiatus - to give the city some hope
Written by Edmund Lee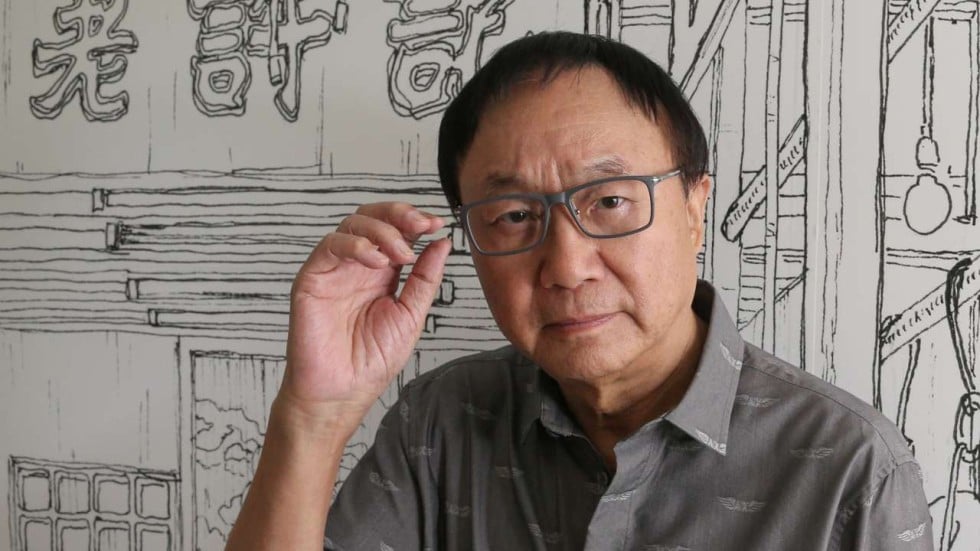 Michael Hui in the office of his production company in Causeway Bay.
After being nominated as best director in Taipei's prestigious Golden Horse Awards for his 1978 film The Contract, Michael Hui Koon-man thought it was going to become a habit. After all, he had just co-scripted, directed and starred in the now-classic The Last Message (1975) and The Private Eyes (1976), and would go on to cement his place as a Hong Kong comedy legend within a decade.
But for the longest time it seemed that lightning was not going to strike twice.
"I remember that when I was nominated 38 years ago, I thought a nomination would follow every year afterwards," says the 74-year-old, who was finally nominated again – this time as best actor – for his leading role in the Taiwanese film Godspeed. "If they were to give me the prize this time, it'd be because they thought I didn't have another 38 years to wait – it would be for humanitarian reasons."
Michael Hui Koon-man on the red carpet at the 53rd Golden Horse Awards in Taipei, Taiwan in 2016. Photo: Reuters
The cruellest part of the experience for Hui is that – despite heading into the November 26 awards ceremony as favourite for the best leading actor prize – he didn't win this one, either.
Ironically, missing out on the top honour probably suited Hui just fine: during our 45-minute chat, he shows repeated glimpses of the perfectionism that has made him a solitary artist and one who seldom feels his work is good enough.
Michael Hui as a Hong Kong native who has had a hard time since moving to Taiwan in the film Godspeed.
It's reasonable to think Hui might have put some of his pent-up frustration into his character in director Chung Mong-hong's engrossing Godspeed – part road movie, part violent crime drama. In the film, Hui brings his funny Hong Kong accent to the role of Old Hui, a Hongkonger who has struggled to make ends meet since moving to Taiwan 25 years earlier.
Coldly received by his family, Hui spends his days and nights driving an old taxi around Taipei to save money for retirement. Everything changes one morning when he chances upon a drug mule (played by Na Dow) who needs to travel to the south of Taiwan to deliver a package. The long and winding journey eventually renews in the unlikely pair a much-needed sense of hope – an element Hui considers essential for any filmmaker with a story to tell.
"The reason I haven't made many films in recent years is because I haven't encountered any good scripts," he says. "This one is excellent, so it took me no time at all to accept the part. I hope the Hong Kong audience will find it refreshing to see me in this film, because I haven't acted in this way before. I was used to exaggerating my body language and my dialogue, but there's none of that here."
Born in Guangzhou, Hui moved with his family to Hong Kong in 1950 and first hit the big time when he co-hosted the early 1970s TV comedy variety programme The Hui Brothers Show with his younger brother, the pop singer Sam Hui Koon-kit.
The elder Hui made his film debut in Li Han-hsiang's The Warlord (1972), and went on to appear in several more films directed by Li, although it was the box office hits he scripted, directed and starred in alongside his brothers – Sam and Ricky Hui Koon-ying – that established him as one of the biggest stars of the '70s and '80s, not only in Hong Kong, but also Japan, Taiwan and across Southeast Asia.
Before Godspeed, Hui's only prominent screen roles in the past decade had been in the mediocre comedies Robin-B-Hood (2006), The Bounty (2012) and Delete My Love (2014). He hasn't directed a film since 1992's The Magic Touch, which he made with popular comic Dayo Wong Tze-wah, and the writer-director-actor admits frankly that persistent doubts about his ability prevent him returning to directing.
"The reason I hadn't directed since The Magic Touch was because I'm not satisfied with myself," says Hui. "I'm not satisfied with The Magic Touch, either. And I thought to myself, if I couldn't come up with something new, I should hide myself deep in the mountains. I should only make a film when I have something worthwhile to say; otherwise, what's the point?"
Michael Hui (right) as a taxi driver who inadvertently walks into some unusual situations in Godspeed.
What Hui envisioned as "a little down time to think" has now spanned more than two decades, during which time he relentlessly tried to write the one story that would live up to his impossible standards. More than a dozen original comedy screenplays now line his bookshelves, waiting to be brought to life to entertain the public.
"I've written a lot of scripts that I thought were good," he says. "Usually I'd write as soon as I got the creative impulse. Then I'd put them away – I'd go fishing or travelling – and later come back to look again and see if the spark is still there. If it isn't, it means the script isn't working."
The collection of finished work has caught his wife's attention. "Once in a while, she'd come and say, 'This stack [of screenplays] is your life, wasted. It's becoming the past and you don't have much time left.' I asked why, and she said, 'Because people get old. How do you know the scripts aren't working?' And I don't know, to be honest, because I'm the one who writes, directs and stars in my films. There's nobody to give me opinions."
Hui is hopeful he will start shooting his next directorial effort this year. "I don't really like to act, but it's not up to me. The jokes have a lot to do with timing; they won't work if an actor turns around a second too late. So I'm sometimes forced to take up a part in my own film."
Although he hasn't yet given the comedy project a title, Hui is adamant his upcoming films, like Godspeed, will be optimistic. "This film is especially for Hong Kong, where everyone is so grim nowadays," he says.


"Why don't I make anything other than comedy? Because the world is sad enough, and there's no need for me to remind people of that. Some filmmakers like to reflect on how cruel the world is, which leaves me wondering: why do you feel the need to reflect that [when it's so obvious already]? It's our everyday life."
Nevertheless, Hui says a question he always asks himself to ensure a film's universality is: "Would it sell in Congo? Like Security Unlimited, you can show it to a Japanese audience or an African audience and it'll still work anywhere," he says of the film that won him the best actor prize at the first Hong Kong Film Awards in 1982.
Hui understands that his early brand of Hong Kong-centric social satire is irrelevant today because "after 1997, it's not about Hong Kong cinema any more", he says. "Hong Kong is now part of China and, in the future, there'll only be 'Chinese films' – and not any distinction between mainland productions and Hong Kong productions. It's just like you wouldn't differentiate American films between those made in New York and California."
Why, then, have we rarely seen him in any notable Hong Kong-China co-productions in the past decade?
"Because it's not really my…" Hui trails off and then starts again. "I only care about the script. I don't care where it's from. Why haven't I [done any]? First, because I'm not familiar with the China market. It's very hard for me to write [for it]. I wrote several stories but threw them away. And I don't want to superficially write about something that I don't understand, with the intention to [pretend that I do].
"I've had several offers [to act], but they're not like Godspeed, which I find really meaningful in the ways it echoes my personal sentiments. I'm not quite interested in those other offers. At this stage, I'd rather just enjoy life; actually, filmmaking is part of my way to enjoy life. If I were to make a pointless comedy that says nothing after all the laughs, even if it does well at the box office – don't waste my time."
Hui looks extremely lively for a 74-year-old, but has he given any thought to real retirement? "I retired a very long time ago," he protests, with a laugh. "The fact is that I retired 20, or maybe 30, years ago. But when people ask me about my favourite activities in my retired life, I still tell them that I like diving, fishing and making films. So that's what I'm doing."
Godspeed opens on January 5.